jurock ~ follow @jurock2011
In a city where stars are rarely born. A starving artist knocks and waits patiently at destiny's door. Arguably one of the most known independent artists in the world, but without the gimmicks and the million dollar contracts, the road to success has undoubtably been one, most would not believe. but who is ju rock anyway? Is he a duplication of t.i? lil wayne? or some other hip hop star that he wants to be like. Ju Rock's style can be compared to many of the big names of today. But what makes this self proclaimed "underdawg of the underground" different from the rest has yet to be seen, Unless you are of course one of the thousands that has been a witness to his impeccable flow, flawless delivery, and industry level hooks. Ju Rock is a visionary, his ear for music & his charismatic mic presence has made him the voice of a new generation. One look at Ju Rock's track record will convince even the toughest critic that the indie bred artist is indeed the next big thing in hip hop. Although Ju rock's roots start out in buffalo, ny, his name was made in the streets of toledo, oh (also known as the glass city). With the birth of myspace & other popular social networks came a new outlet, which resulted in an impressive number of page views, and downloads not to mention a fanbase that ju rock does not take for granted. Many of today's artists thank the fans, but Ju Rock not only thanks them, he hears them. He has taken fan appreciation to the next level by being one of easiest artists to get in touch with. You can call and leave him a msg through his SayNow number (567-202-1657), follow him on his twitter account (twitter.com/jurock) which he checks and updates at least 10 times a day or watch him live in the studio on his ustream page. "i believe in putting the real me out here and letting everybody feel me for me not for who they think i am". The internet phenomenon that is Ju Rock, all started in the streets and thats where he says he plans to keep it. His current project "The Storm mixatape" (hosted by: dj logikal and the ohio street djs) is generating a buzz that might very well be that buzz that puts juliano in the spot he has be fighting for, for the last decade.


follow carmen here @thecarmenolivia
Carmen, meaning song in latin, couldn't be a more fitting name for chanteuse Carmen Olivia. A true lover of soul, hip-hop, and jazz—Carmen's voice has been molded by greats such as Karen Carpenter, Luther Vandross, Sade, and Whitney Houston since the tender age of nine. Her passion and talent lead her to perform in community musicals, weddings, and events.
Carmen moved to Tallahassee, Florida and became the leading lady of After The Smoke. Her voice caught the attention of T.J. Chapman, manager of B.o.B; Bryce Wilson, founder of
Czar Entertainment
; and William H., former A&R of Atlantic Records. However, in wanting to pursue their own endeavors, After The Smoke continued their independent journey. During this time,Carmen performed at a number of locations in the southeast including Atlanta's
Tree Sound Studios
, where she continues to record.
Carmen relocated to Atlanta, Georgia in the summer of 2009 to pursue her solo music, acting, and songwriting career. She is currently working on her first EP with producers in the Atlanta and New York City areas.
follow david martinez
here @davidmartinezmu
David Martinez
decided to embark on a music career back in 2005. After years of writing, playing guitar, and performing live at Open Mics, he took his music on the road in 2006 hitting the Western and Northern US. On a stop in Hollywood, David met his future producer Leroy Miller and in 2007 he recorded his debut album in Los Angeles. In 2008, he put the David Martinez Band together and released his debut album in 2009. The release followed a nationwide radio promotion which garnered positive reviews from programmers. The band played with the likes of Bob Schneider and were top 12 finalist in a National Battle of the Bands sponsored by Land Shark and Rhapsody Music and played the legendary KLRU studios in Austin, Texas. They were also sponsored by AXE in the fall of 2009. In 2010, David released a new single, "Hey Mary" , recorded in Nashville with Leroy Miller, and was received with rave reviews by such groups as Planet LA Records and Indie On Air. This resulted in several showcases during SXSW with Planet LA and Indie on Air. David is slated to record some new tracks this summer and continue to a huge nationwide tour is in the works for next year. Stay tuned

george w. carroll ~ jazz artist and musician
follow @moonboy22
George W Carroll, a Sarasota, Fl icon is at the center of jazz entertainment in his adopted hometown.
In his own words, Carroll says: "I have no delusions about big time events in the music business itself."
International Jazz Artist and Vocalist – Jazz Pianist
"It's a tough racket, believe me." But sometimes I'm in awe of my own accomplishments during this era of clubs closing left and right. George's data base (locally) of some 1600 + names show up at his performances at clubs, a concert, fund raisers etc. and ''this is very gratifying'' Carroll says. Our audience gets younger every year. My wife Mary counsels me to just let things evolve and don't over manage or over analyze. Carroll has attracted admirers on the national stage as well including legendary
jazz vocalist
Mark Murphy who says: "I love what George does with his selections from the American Songbook."Murphy has also called George "a great player-singer."
USA jazz pianist
treasure
Dick Hyman
has called George "a considerable
jazz performer
and there are several original attractive songs which you present." Presently, George is reaching out to the USA, Asian, and
European jazz artist
markets trying to attract attention in the area of
jazz promoters, jazz festival directors, jazz artist booking agencies
, national and
international jazz performance
venues, et al.
Jazz Artist and Composer
George has stood on the shoulders of some of the best jazz performers this world has produced and these have gone on to better things. I refer to such luminaries as
jazz guitar
sensation
John Abercrombie
,
jazz composer
/arranger
Mandel-esque
and
jazz pianist
Alan Broadbent
,
Buddy Rich alumna Greg Hopkins
, et al. Over the years and through it all George exclaims: "Music has been my engine."
Big Band Jazz Quartet
Throughout the years, George hasn't stood still regarding leaving his musical legacy. He has self produced some 25 + vocal big band jazz CD projects involving both his big band jazz quartet. Even "PBS" produced a 1/2 hour feature on George's career zeroing in on his big band and symphony vocal offerings. Carroll has penned some 10,000 + songs in his musical life and George says "it's fun to get yearly royalties on some of them which are played from Boston to Australia." With his tongue in his cheek, George says "Have music, will travel."
follow c-money
@macamillion1 @globalrapmogul
Welcome to the world of one of the Bay Area's best kept secrets,C-Money "The One-n-Only". Formally of U.T.G. (Unda Tha Gun), a San Jose based rap group known for such hits as "The Evil That Men Do," featurig Sacramento legend C-Bo, as well as many other projects with some of Northern California's finest underground MC's.
Now on his own as a solo artist, C-Money is preparing to unleash his first magnum opus titled "West Coast Dope" courtesy of Mac-A-Million Entertainment. Known for his hip hooks and slick lyrics, C-Money "The One-n-Only" guarantees to provide "that high that the West Coast has been looking for every since Pac left. This is the medicine, that therapeutic music shit."
Finally an artist you can depend on to give you lyrical consistency and in depth conversational topics to ponder. C-Money "The One-n-Only", real name Michael Campbell is a talent worth watching for. There is no catch or hidden strings attached, he is the truth in every sense!
follow @sellassie
Sellassie is an alternative in today's hip-hop, proof that there are young black artists that can make music that is creative, street and smart. Bringing a fresh perspective to the game, Sellassie stands firm to his message, has a charismatic presence and is evidence that not every rapper raps negatively, glorifying drugs, guns, women, money or their ego. Masterfully articulating the struggle, Sellassie's art is poetry on hip hop beats, music that identifies with scholars and people in the ghetto alike.
With a new release, Sins of Your Forefathers, San Francisco Poet and Activist Sellassie carved his niche as a leading progressive voice in Bay Area Hip Hop. His energy and authenticity easily set him apart as an upcoming force delivering revolutionary hip hop aimed to change the world.
In addition to the new record, Sellassie is celebrating the 1 year anniversary of the successful independent showcase series called WE ALL WE GOT and National Rap Contest Series, 2Racks, Sellassie is also working with many social, political and youth based initiatives, and is a contributor to various special projects including "It Don't Cost Nothing to Dream" film.
tmack ~ move on ~
@rulerdivine @tmackfanpage @indiablondenews
T-Mack the Artist is a sign of the times, a symbol of a new golden era in rap. The inspiration you get from his voice leads you not to be critical or judgemental but productive, as it should.
"Brooklyn born, but I was raised in Queens…" (Da Beenz) explains his style.
Stationed in the Rotten Apple, he targets everywhere in the rest of the world not to destroy but to uplift, hence the name of his 3rd collection of concepts, beats & flows: "Work Like A Slave, Eat Like A King".
"Work Like A Slave, Eat Like A King" is the proof. They didn't think he had it in him. Along with the likenesses of platinum artist Mr. Cheeks & family, Feed Da Wolves finest Domination, up & coming Def Jam artist Spita & his 'beastly' comrade, the diva Miss India Blonde (as well as many other talents) he denounces the bad rumors.
T-Mack has heart, soul & substance. The more he delivers, the better it gets. Make sure you always stay tuned with T-Mack the Artist 'cause trust, you don't wanna miss what he has in store!
Facts:
The Mark of A Crazy Kid (album) – downloads unable to be determined but safe to say about 500
Da Beenz (Brooklyn & Queens) – about 1,500 downloads with 1 official video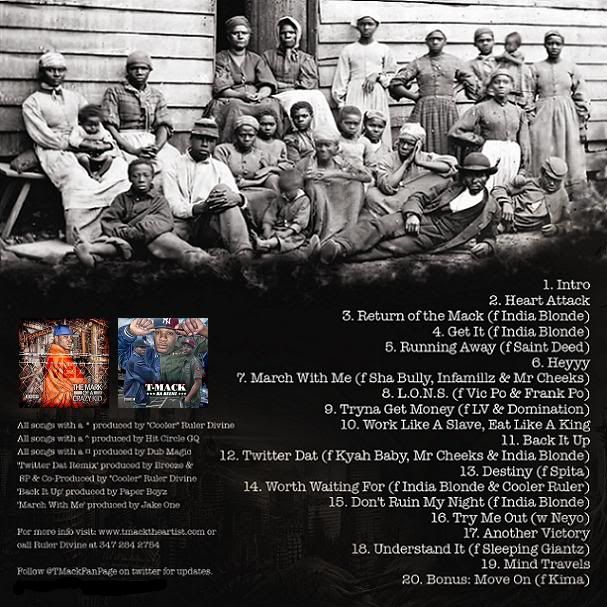 follow @ephect
Ephect (pronounced as Effect) been into the music world for over 10 years since the mid 90′s. Writing lyrics, Producing beats and songs and CEO of the independent label New Method Productions, llc established in 2004. Ephect describes his lyrical style as more of a 'direct' flow of his thoughts and emotions of inspiration, aggression, determination and the truth. Writing with drive and ambition, Ephect also creates music for a party/club atmosphere as well. He believes in trying to reach his fans in all different race, age, sex and areas. He released his first album "Facing the Truth" back in 2007 (Now Available on iTunes & Amazon) and has helped the other artists on the label release their own solo projects as well. With deep thoughts and a passion for the music and the business, Ephect plans to be heard all over the world and try to "Ephect the World"… more info coming!!! (member of BMI)
Follow @FLAVORFLAV AND FAN PAGE @FLAVAFLAV
Biography
by David Jeffries
Born
William Drayton
on March 16, 1959, rapper and reality television star
Flavor Flav
emerged in the late '80s as the humorous hypeman of
Public Enemy
and then reinvented himself in the 2000s thanks to VH1′s reality series The Surreal Life. Raised in Freeport, Long Island, he was a self-taught prodigy on the piano but petty theft and burglary charges meant his teen years were spent dodging the department of corrections. After dropping out of high school in his junior year, music came back into
Flav
's life when he began hosting a college radio program with
Carlton Douglas Ridenhour
, the man who would soon become
Chuck D
. With DJ
Terminator X
and squad leader
Professor Griff
they would form
Public Enemy
, a group that in 1987 would change rap forever when its debut album,
Yo! Bum Rush the Show
, was released on the Def Jam label. With "stunna shades" hiding his eyes and over-sized clocks hanging off his neck,
Flavor Flav
played court jester to the stern and cold
Chuck D
. It was a formula that would work for the next 20-plus years, with
Flavor
occasionally becoming the center of attention with tracks like "Too Much Posse," "911 Is a Joke," "Can't Do Nuttin' for Ya Man," and "Cold Lampin' with Flavor."
During the '90s he spent much of his time away from music, dealing with crack addiction and spending time at the Betty Ford Clinic plus the Long Island Center for Recovery. Charges of domestic violence and driving with a suspended license meant he was in and out of jail again during these times and with
Public Enemy
on hiatus,
Flav
made his money by scalping baseball tickets around the Bronx. In 2003, on a suggestion from
Chuck D
, he moved back to the West Coast. Sought out by the producers of the show,
Flavor
joined the cast of the reality show The Surreal Life in 2004, living with the likes of
Charo
and
Dave Coulier
while falling in love with the Amazon of the house,
Brigitte Nielsen
. In 2005, the couple's love affair continued on the spinoff series Strange Love, but when the relationship ended in 2006, it spun off another
Flavor
-centered series, Flavor of Love, which would last for three seasons. Now back on top, the rapper released his debut solo album,
Flavor Flav
, in 2006 and suffered the jabs of
Katt Williams
,
Patton Oswalt
,
Lisa Lampanelli
, and others when
The Comedy Central Roast of Flavor Flav
aired in 2007. A year later he became a featured actor on the myNetworkTV sitcom Under One Roof.
follow the group
@mrboomtown @mongo_slane & @slimmboslice @classy_folk
The famous video/BET award nominated director @MRBOOMTOWN has launched his record label @imboomtownmusic aka Boomtown Music Group. Mr. Boomtown has become a huge success as a video director and wishes to continue his success with his new record label. His first artist off his label is @Mongo_Slane & @Slimmboslice which make the group @Classy_Folk Classy Folk is a group out the Dallas-Fort Worth Metroplex. Their music isn't like other artist you hear out of Dallas. You have to hear their music for yourself! With Mr.Boomtowns talents in the directing and Classy Folks talent in making HITS, they will take Dallas to another level in the music industry. Check em out!